We travelled from Dubai to Kigali with Rwanda Air. Rwanda Air allows two pieces of luggage of 23 kilograms per passenger. Rwanda Air is very flexible with the size of the luggage. We tied the bicycle bags together (with household foil) to form a large piece of luggage weighing less than 23 kilograms and packed the bicycle in a bicycle box, also weighing less than 23 kilograms. This way we didn't have to pay any extra fees.
We got the visa on arrival at the airport in Kigali. It was free of charge. As we did not know at that time in which direction we would go, we only applied for a visa for Rwanda. It would also have been possible to get an East African visa for Rwanda, Uganda and Kenya for 100 USD per person.
Rwanda is not called "the land of a thousand hills" without reason. It is indeed very hilly and also high in altitude. Most of Rwanda's land lies on a plateau with an average sea level of 1500 metres. The climate is therefore rather mild and humid despite its proximity to the equator. The average daily temperature is 18 degrees Celsius. There are no major temperature fluctuations throughout the year, but it varies depending on the altitude of the regions. There are two rainy seasons. One from September – December (about 27 % of the annual rainfall) and one from February – early June (March – May about 40 % of the annual rainfall). We were in Rwanda from 1 March 2022 to 13 March 2022 on our cycling tour. In the middle of the rainy season …
Thanks to the foggy, damp and cool climate, the plant and animal species are unique and some of them can only be found in Rwanda. For example, the Nyungwe forest in the southwest of the country is the only remaining mountain rainforest in Central Africa, or in the north of the country the incredibly rare mountain gorillas find their home.
Kigali, the capital of the country, also offers space for an incredible number of plants. We have rarely encountered such a green capital. And it is also an extremely clean capital. In Rwanda, waste separation is required by law and plastic bags are banned. This makes Rwanda one of the cleanest countries we have ever visited. Cleaner than some European countries!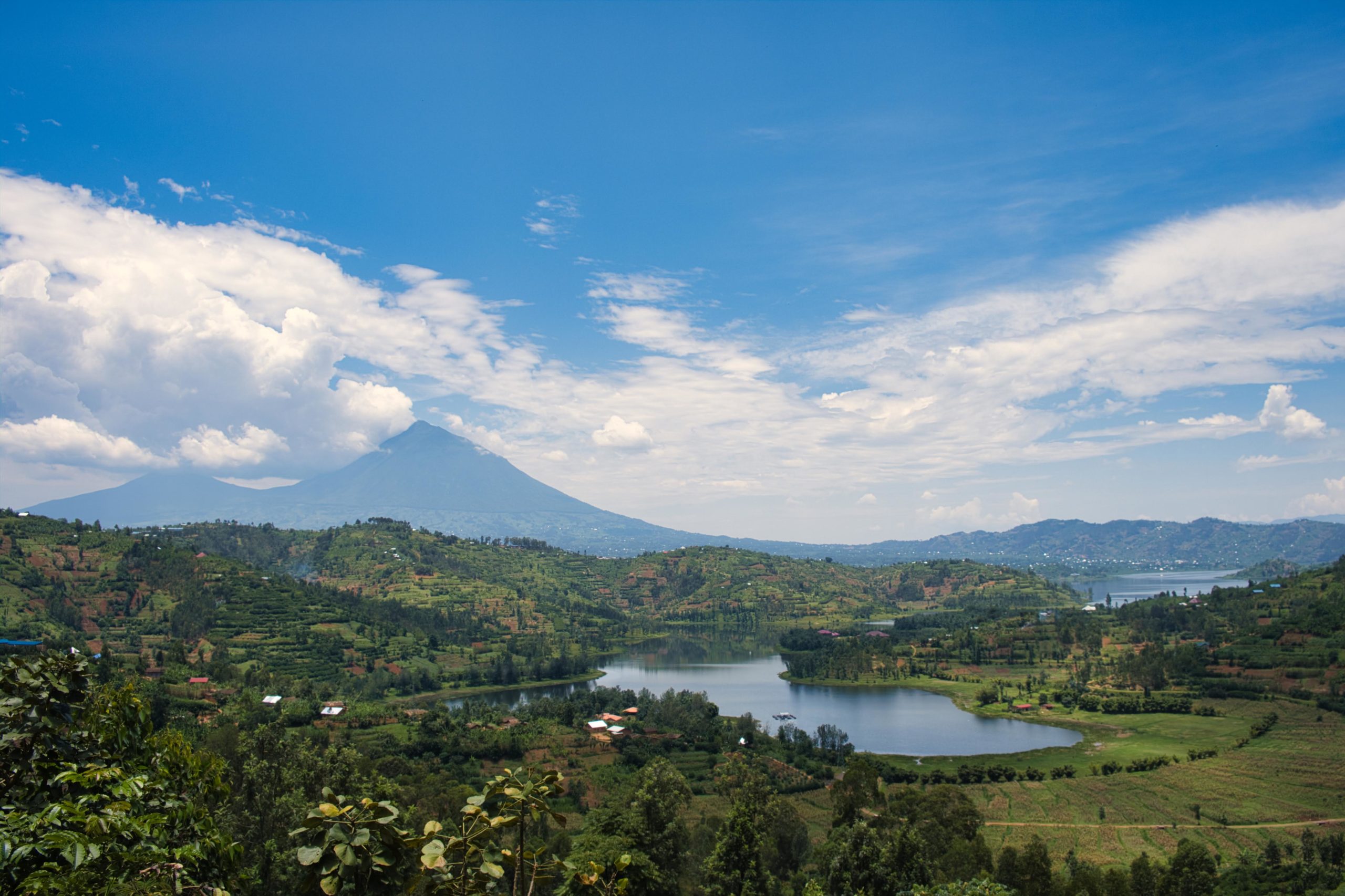 Rwanda's biggest challenge is certainly its population density. It is one of the most densely populated countries in the world. Almost 13 million people live in an area of 26,338 square kilometres. In comparison, Switzerland, with its 41,285 square kilometres, is not quite twice as large, but has only 8.6 million inhabitants.
This population density of Rwanda is clearly noticeable when cycling. There are people everywhere. If we stop for a moment to have a drink or take a photo, a crowd of people instantly forms around us. We were never alone. This makes wild camping very difficult. During our time in Rwanda, we were only able to pitch our tent once without being noticed, and we were only able to pee once in daylight.
The people of Rwanda are very curious, friendly, but also very poor. If you travel through Rwanda by bike, you need understanding, serenity and an inner calm.
The inhabitants of Rwanda are not used to white tourists, especially tourists on bicycles, and they followed us for kilometres. As I said, we were never alone. Either on foot or on their own (extremely rickety) bicycles, they accompanied us the whole day. And since there were days when we only tramped uphill, there was no "escape" for us. At walking pace, we hauled ourselves up the hill, surrounded by numerous children (40% of the population is under 15 years old). We were often asked for money or sweets. We were also often touched or held. Our skin, our hair and of course our bicycle equipment fascinated them very much.
This intrusiveness was sometimes hard for us to bear. Especially since Rwanda was our first African country. On the way back to Kigali, I'll be honest, we really asked ourselves whether we should stay in Africa. I wonder if the rest of the countries in Africa would be like that? (Spoiler alert: they are not. Rwanda was by far the most intense country in terms of its people).
If you travel to Rwanda, you cannot avoid some history lessons. The events during the genocide in 1994 are too present. Nobody wants to talk about the genocide in public or with tourists. We were also advised not to ask questions about it.
We highly recommend visiting the genocide museum in Kigali. The museum is one of the best we had ever visited. Very informative and impressive. Entrance is free, but there is a donation box for the upkeep of the museum. As a visitor, however, you have to be aware that the current government of Rwanda consists of members of the RPF, the Rwandan Patriotic Force. This is the force that finally ended the genocide. It is therefore also the RPF that decides which information goes into the museum and is shown to international tourists, and which does not. Especially when it comes to the reappraisal of the genocide up to the current situation, we therefore lacked a little objectivity in the museum.
However, if you would like to read up on the prehistory, the genocide and the time afterwards before your trip to Rwanda, you can find a blog article with our research on the topic here.
We started by bike in Kigali and first headed north to the Twin Lakes. We liked it very much around the Twin Lakes. There was a wonderful dirt road and a unique view of the lakes. The first picture of this blog post, just below the chapter "Geography", as well as the picture at the very end of this blog post, were taken there.
We then drove south of the volcano (gorilla trekking would be possible here) and arrived at Lake Kivu via the town of Gisenyi. Gisenyi is the neighbouring town of Goma, a city in the Democratic Republic of Congo. It is very exciting to look at the car registration plates there. There are far more cars in this area than in the rest of Rwanda. And many of them have Congolese licence plates.
After Gisenyi, we continued on the Congo Nile Trail for a few kilometres before struggling up to the Kivu Belt Road with its fantastic view of Lake Kivu and the possibility of driving through the rainforest. The Kivu Belt Road, unlike the Congo Nile Trail, is an asphalt road.
After the Kivu Belt Road, we went back down to the town of Kibuye, past it to a beautiful peninsula on Lake Kivu. There, right next to the campsite, we took a boat trip with two other tourists (30 USD per boat) and visited the "Monkey Island" and the island "Napoleon's Hut". Afterwards we went back to Kigali. In Kigali we spent some rest days before we drove north again to Gatuna and crossed the border to Uganda.
In total, we cycled 496.58 km in Rwanda and climbed 7904 metres in altitude.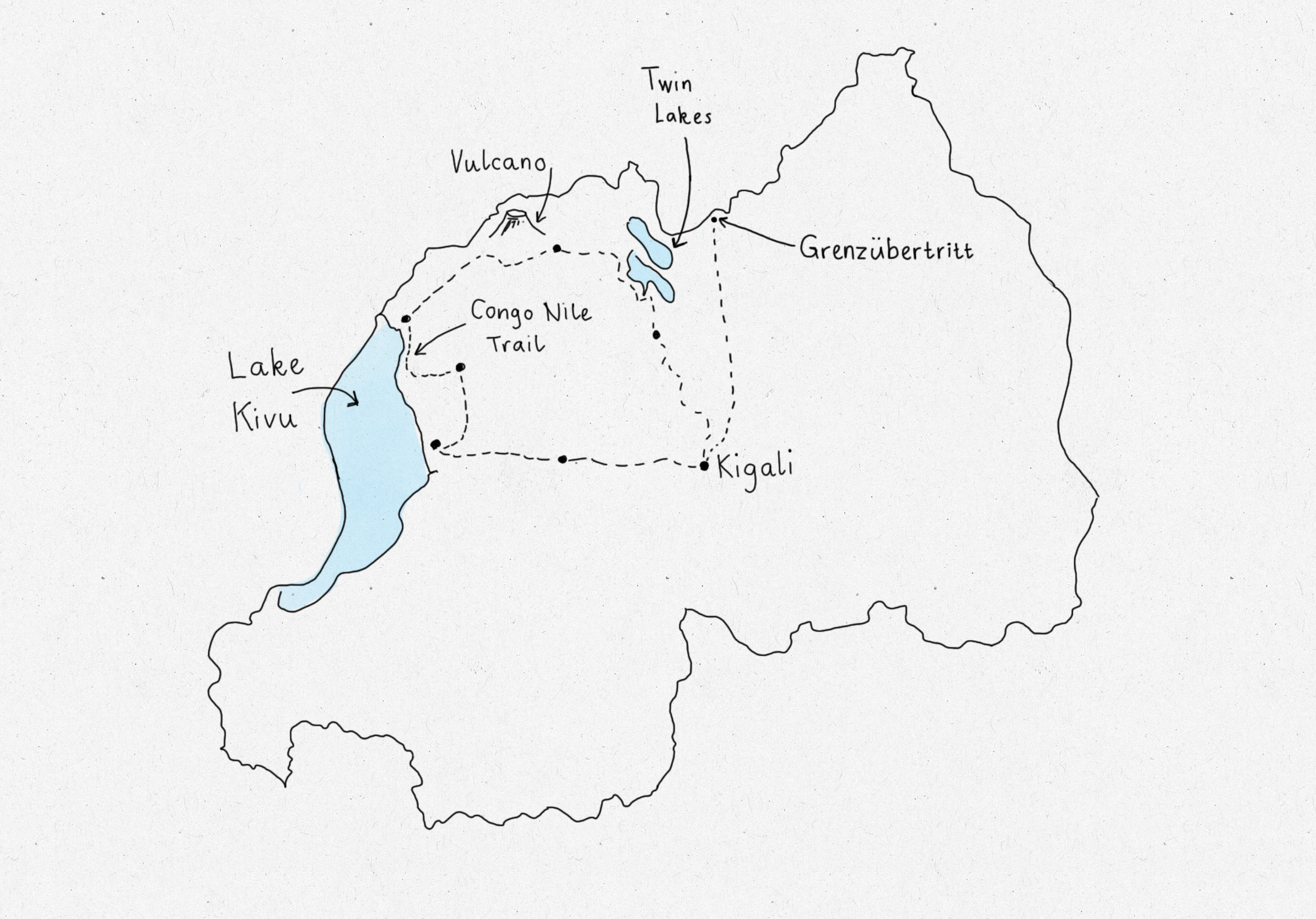 Rwanda is uniquely beautiful scenically. We recommend a trip to this hilly country to anyone and everyone. However, we are not sure whether we would visit the country again by bicycle. This constant being chased demanded a lot of energy from us. At least as much as overcoming the never-ending hills. Maybe Rwanda's population is just not ready for cycling tourists yet? Maybe it would have been more relaxed to explore the country by rental car or motorbike …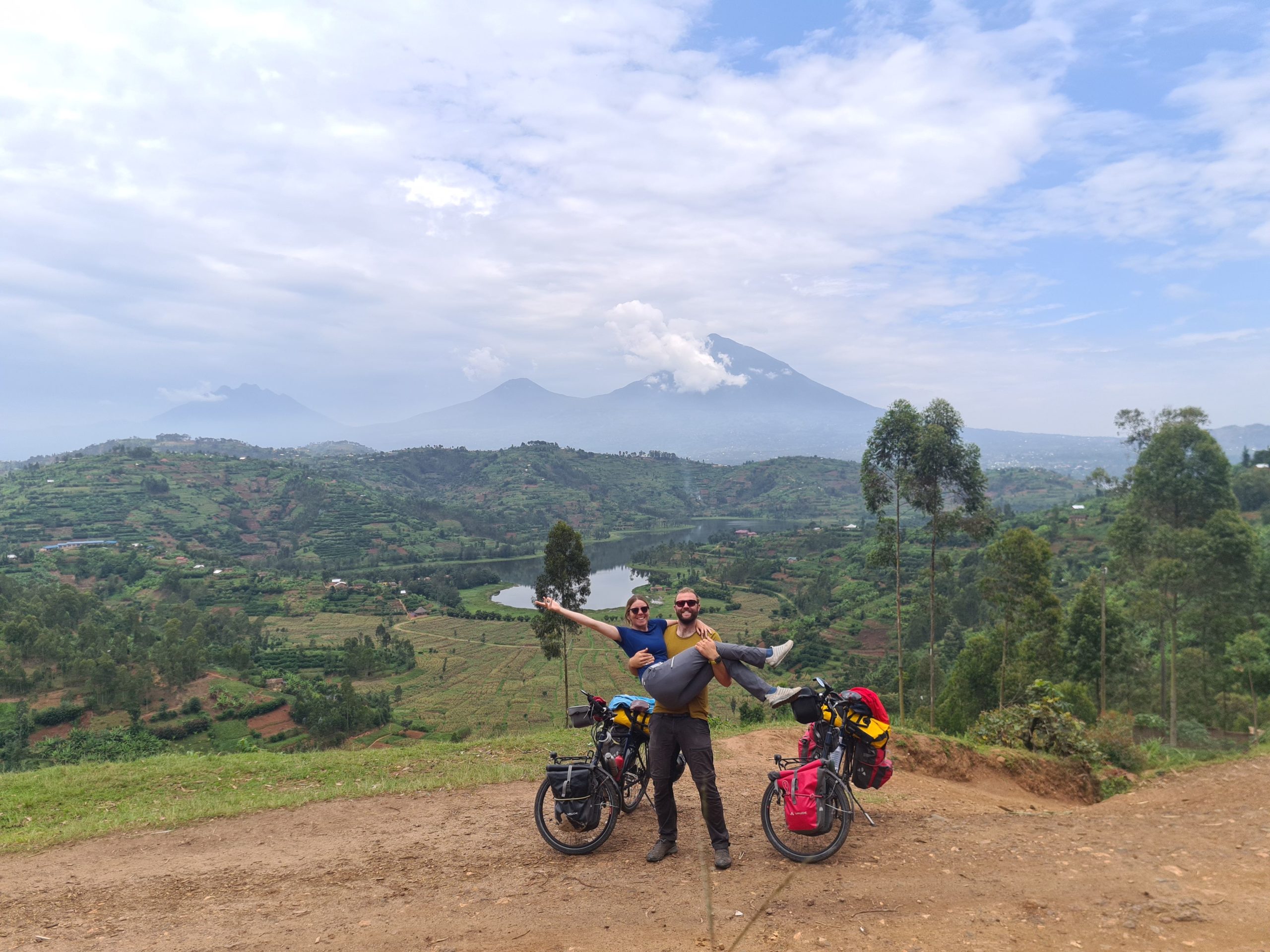 Did you like this blog post? If you like, you can buy us a coffee 🙂